EXOscada upgraden naar Arrigo BMS
Van de wereld van EXOscada naar Arrigo BMS
De volgende stap naar de toekomst van gebouwbeheer.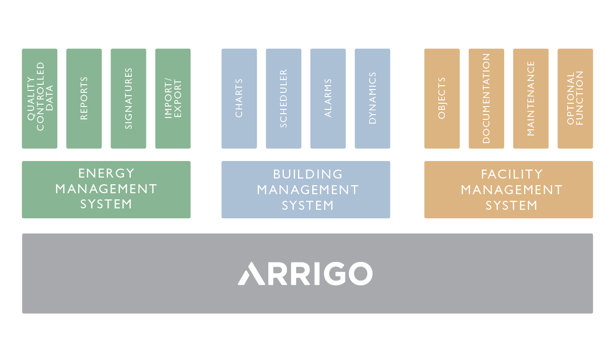 Van de wereld van EXO naar Arrigo BMS
Arrigo BMS is een nieuw technologisch platform dat gemakkelijk integreert met het bestaande EXO-systeem van Regin, waarop alle Regin-regelaars en veldapparatuur kunnen worden aangesloten. Het unieke kenmerk van Arrigo is zijn sterke vermogen om nauw samen te werken met systemen van derden, waardoor de volledige digitalisering van gebouwen mogelijk wordt.
Voor bestaande gebruikers van EXO4 en EXOscada die de wereld van Arrigo binnentreden, is het de volgende stap naar de toekomst van gebouwbeheer.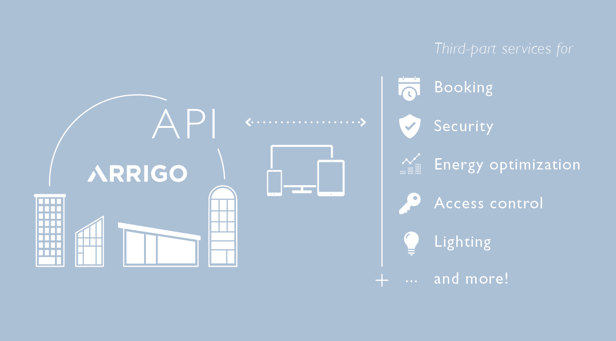 Al uw gegevens. In één platform.
Arrigo is een efficiënt instrument voor integrators die hun klanten een uitstekende gebruikerservaring en diensten met toegevoegde waarde willen bieden. De Arrigo BMS-applicatie aggregeert gegevens van al uw Regin-systemen en -subsystemen, waaronder IT-systemen, hotelboekingssystemen, clouddiensten, enz. De gegevens worden gebruikt via een intuïtieve en responsieve interface op basis van dashboards en slimme widgets. Een gedeelde gegevensbron voor gebouweigenaren, conciërges en systeemintegrators maakt effectieve samenwerking, snelle besluitvorming en onmiddellijke follow-up van uitgevoerde acties mogelijk.
Hoe start u met Arrigo BMS?
Snelle en eenvoudige installatie
EXO4
EXO4 is de eerste versie van de SCADA/HMI-software voor de bediening van het Regin EXO-systeem. Deze SCADA-versie werd stopgezet en opgevolgd door de volgende generatie, EXOscada. Toch zijn er vandaag nog enkele systemen die EXO4 gebruiken.
Hoe upgrade ik naar Arrigo:
Voor gebruikers van EXO4 is het nog steeds mogelijk om naar Arrigo te upgraden. Dit gebeurt via een reeks upgrades:
Upgrade EXO4 in stappen naar de nieuwste versie van EXOscada
Upgrade EXOscada naar Arrigo BMS (Arrigo lokaal 1.1)
EXOscada
EXOscada van Regin is de opvolger van EXO4 en de voorganger van Arrigo BMS. Met de overstap naar HTML5 en de introductie van Arrigo BMS kondigde Regin het einde van de levensduur aan voor EXOscada, EXOscada Chromium en EXOscada viewer. De ondersteuning en distributie van elke versie van EXOscada zal eindigen op 31 december 2023.
Hoe upgrade ik naar Arrigo:
Voor gebruikers van EXOscada is een soepele overgang mogelijk.
upgrade naar de nieuwste versie van EXOscada
Installeer Arrigo BMS (Arrigo Local 1.1)
Importeer uw bestaande projecten naar Arrigo BMS en hergebruik configuraties en afbeeldingen
Systeemvereisten voor Arrigo BMS
Arrigo BMS vereist een 64-bit Windows versie op de volgende OS:
Windows 10
Windows Server 2016
Windows Server 2019
Arrigo BMS Installer vereist PowerShell 5 of nieuwer om uit te voeren.
Upgrade-overeenkomst inbegrepen:
Bij alle nieuwe Arrigo-licenties is automatisch een gratis upgrade-overeenkomst van één jaar inbegrepen. Zorg ervoor dat u binnen dit jaar een nieuwe overeenkomst tekent, zodat u altijd met de laatste versie werkt.
Licenties
Arrigo BMS is inbegrepen bij de aankoop van een van de onderstaande Basislicenties:
| | |
| --- | --- |
| Artikel | Beschrijving |
| EXODS-100 | EXOData source 100 I/O |
| EXODS-500 | EXOData source 500 I/O |
| EXODS-B-1YR | EXOData source 2019 Base |
| EXODS-BC | EXOData source BACnet OPC server (software key) |
| EXODS-BSD-1YR | EXOData source 2019 Base soft dongle |
| EXODS-NIMBUS-1YR | EXOData source Nimbus alarm server |
| EXODS-OPC-1YR | EXOData source OPC connection |
| EXODS-ULIO | EXOData source Unlimited I/O |
Regin Academy laat systeemintegrators graag kennismaken met Arrigo. Of u nu voor het eerst met Regin werkt of al een Regin-integrator bent, Regin Academy ondersteunt u bij uw eerste stappen. Neem contact op met uw lokale verkoopcontactpersoon om deel te nemen aan het educatieve programma.
Onze opleidingen omvatten:
Input over de algemene strategie voor planning, programmering en testen
Herzieningen van Regin-producten en GBS-systemen, aansluitingen en definities
Ondersteuning bij het projectplanningsproces meestal in verband met communicatie
Herziening van aansluiting op regelaars via netwerken
Programmering van vrij programmeerbare regelaars
Ontwerp van SCADA graphics in controllers en servers
Ontwerp van aangepaste grafische objecten
Programmering van aangepaste objecten
Arrigo geeft organisaties meer slagkracht
Prestaties verbeteren. Energieverbruik optimaliseren. Toekomstbestendige investeringen
Boek hier uw demo