Systeemsoftware - Arrigo
Arrigo. Het uitgebreide platform voor gebouw gebonden installaties.
Het schaalbare platform Arrigo bestrijkt alle aspecten van het beheer van een gebouw gebonden installatie. Arrigo biedt gebouwbeheer, energiebeheer en facilitair beheer in één. Arrigo heeft een intuïtieve interface met realtime toegang tot relevante informatie, zodat u vanaf elk mobiel apparaat direct actie kunt ondernemen. Of u nu eigenaar bent van een gebouw of een integrator die vandaag met EXOscada van Regin werkt, Arrigo is de volgende stap naar de toekomstige generatie van gebouwbeheer.
Arrigo
Arrigo. Eén uitgebreid platform voor efficiënt gebouwbeheer.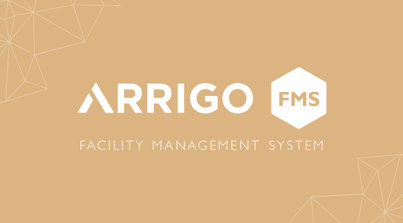 Plan activiteiten en management. Krijg volledige controle over documentatie.
Arrigo geeft organisaties meer slagkracht
Prestaties verbeteren. Energieverbruik optimaliseren. Toekomstbestendige investeringen
Boek hier uw demo
Arrigo. Kortom, gebouwbeheer is simpelweg efficiënt geworden.
Verbeterde winstgevendheid en concurrentievermogen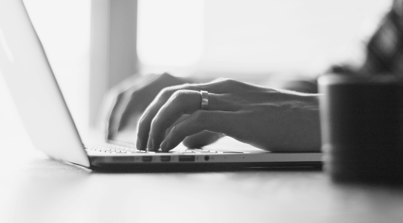 Tijd besparen. Prestaties verbeteren.
Arrigo is ontworpen om tijd te besparen. Bij het beheer van gebouwen zijn talrijke processen en veel verschillende partijen betrokken. Wanneer iedereen in real time toegang heeft tot en volledige controle heeft over zijn verantwoordelijkheidsgebied, zullen de taken sneller kunnen worden uitgevoerd. Zo maakt Arrigo uw bedrijf efficiënter:
Eén platform voor samenwerking verbetert de productiviteit van de hele operatie
Rolgebaseerde en gepersonaliseerde weergaven met widgets voor tijdige en geïnformeerde beslissingen
Real-time toegang tot kritieke informatie voor snelle analyse en onmiddellijke acties
Eenvoudige toegang tot onderhoudsgegevens, dagelijkse werkzaamheden en operationele incidenten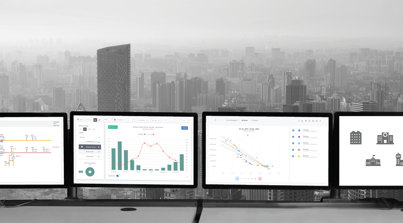 Energieverbruik optimaliseren.
Het beheersen van het energieverbruik en het waarborgen van de kwaliteit van het binnenklimaat is een van de belangrijkste uitdagingen voor gebouweigenaren en facilitair beheerders. Arrigo biedt een duidelijk beeld van het energieverbruik in combinatie met kwaliteitsgegevens over het binnenklimaat door middel van:
Slimme energiebeheertools voor gegevensanalyse, vergelijkingen, prognoses, follow-ups en meer
Gevisualiseerde resultaten in realtime rapporten bieden de inzichten die nodig zijn voor de opvolging van acties en aanpassing van uw systeem
Energierapportage voor belangrijke factoren van de benchmarkering van de prestaties van uw gebouwen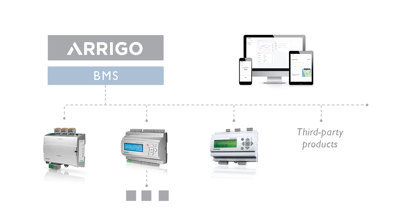 Toekomstbestendige investering.
Tijd- en energiebesparing zijn financiële argumenten om in Arrigo te investeren, maar daar blijft het niet bij. Levenscycluskosten gaan over een systematische aanpak voor het in evenwicht brengen van onderhoudskosten, bedrijfskosten en vervangings-/renovatiekosten gedurende de levensduur van het object. Dit is hoe Arrigo u zal helpen duurzame systemen te onderhouden:
Zorgen voor een maximale levensduur van uw Regin-systeem - uw geïnstalleerde Regin-hardware werkt efficiënt in een Arrigo-systeem gedurende de gehele levensduur van het product
Soepele upgrade van EXOscada. Hergebruik configuraties en graphics.
Door Arrigo te implementeren in een bestaand Regin-systeem kan tot 90% van de kosten worden bespaard in vergelijking met de implementatie van een nieuw systeem
Uw Arrigo-platform zal werken met de toekomstige generaties Regin-regelaars en veldapparatuur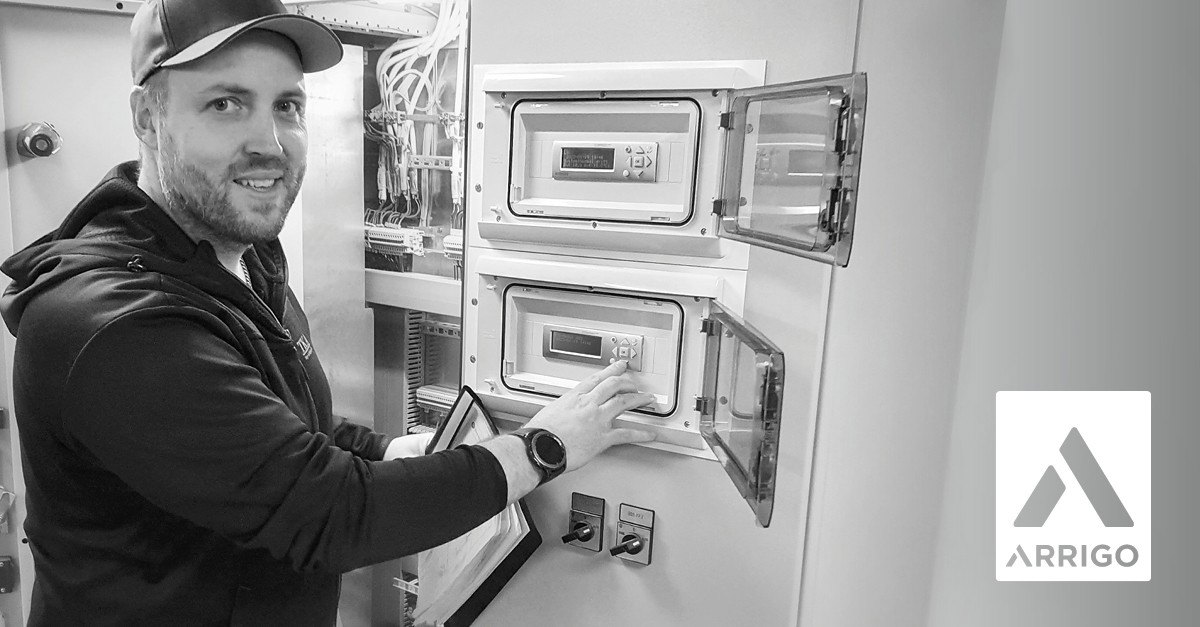 - Het grootste voordeel van de tool is uiteraard dat hij energie bespaart. Wat ons betreft, is het ook een groot voordeel dat de tool beschikt over een eenvoudige interface die gemakkelijk te navigeren is. We stellen ook een groter engagement vast bij de technici om energie te besparen. Dit is te danken aan het optimale overzicht en de gebruiksvriendelijkheid van het platform. Bovendien besparen we werkuren, omdat de meeste dingen op afstand kunnen worden uitgevoerd.
- Kristoffer Grennberger van TKA Styr & Rules in Linköping, Zweden.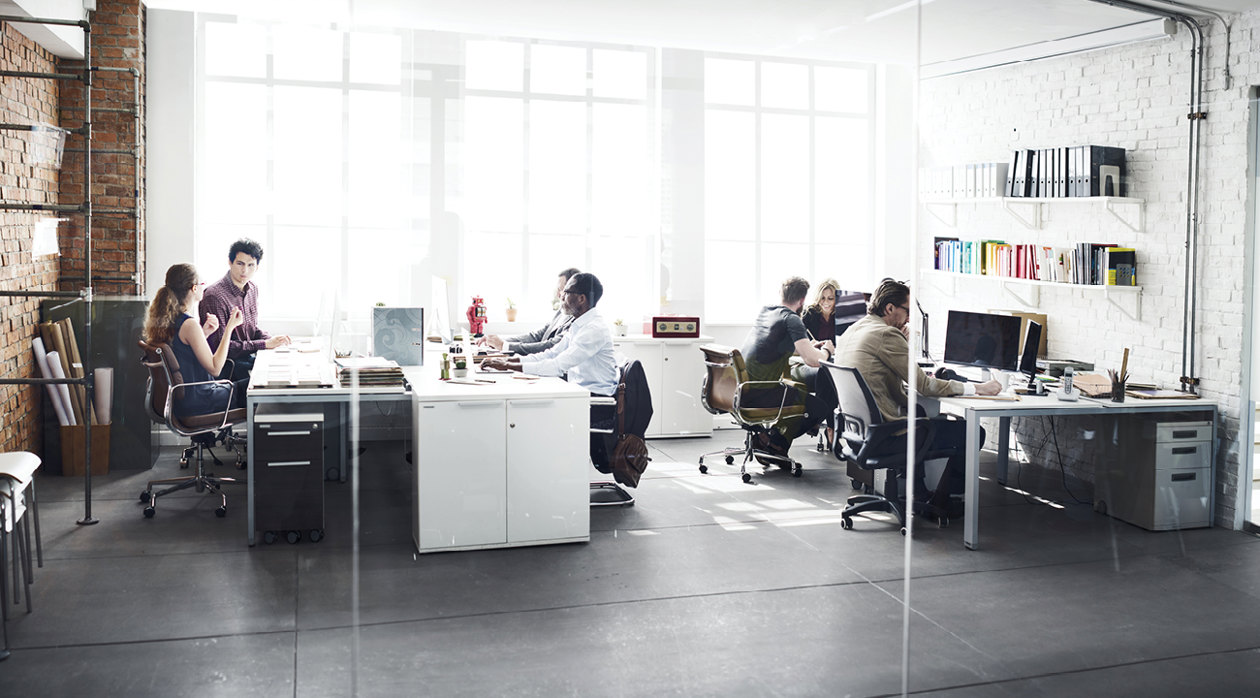 Technologie voor een duurzame toekomst
Arrigo digitaliseert gebouwen door bestaande systemen en producten van Regin te verbinden met systemen en diensten van derden. Met efficiënte analysetools geeft Arrigo professionals meer mogelijkheden. Arrigo helpt hen te begrijpen hoe mensen gebouwomgevingen gebruiken, hoe gebouwfuncties kunnen worden geoptimaliseerd voor de beste gebruikerservaring, en hoe het energieverbruik kan worden verminderd. De implementatie van Arrigo is een zeer winstgevende investeringsmogelijkheid die veel verder gaat dan alleen financieel rendement. Arrigo draagt bij tot de gezondheid, het welzijn en de productiviteit in gebouwen en beperkt tegelijk de uitstoot van koolstofdioxide tot een minimum.
Altijd alles onder controle. Altijd klaar.
Innovatie door tijdbesparend ontwerp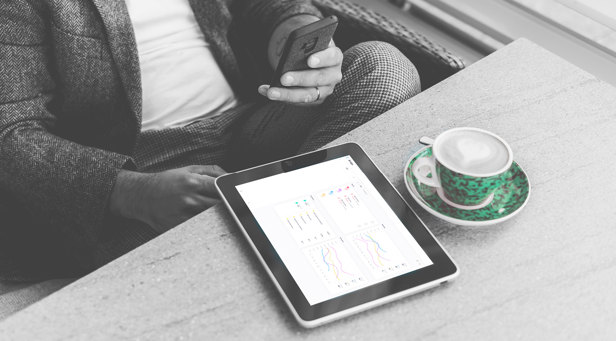 Werk vanaf elk apparaat. Altijd. Overal.
Arrigo verwelkomt alle gebruikers in een intuïtieve interface. Uw werkruimte past zich perfect aan elk soort scherm aan. Ongeacht of u een facilitair beheerder, conciërge of energieconsultant bent, Arrigo biedt u snelle toegang tot kritieke parameters voor eenvoudige configuratie, waar u ook bent, en ondersteunt uw workflow, ongeacht of u op een grote monitor, een laptop of een smart device werkt.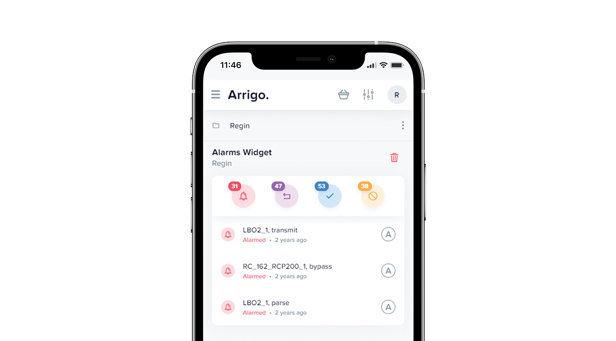 Arrigo widgets. Weinig ruimte, grote voordelen.
Arrigo widgets zijn slimme, gebruiksvriendelijke applicaties met een grafische interface die werken met real-time gegevens en waardevolle inzichten bieden in de belangrijkste parameters. Enkele van de meest gebruikte widgets zijn alarmwidgets en trendwidgets. Een Arrigo-widget kan uit verschillende componenten bestaan, zoals tekstvelden, tabbed panels, grafische animaties, of interactieve SVG animaties.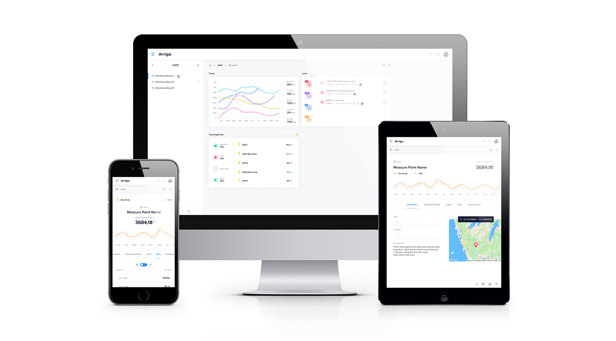 Arrigo-dashboards. Alles op één plaats. Altijd.
Arrigo-dashboards zijn opgebouwd uit Arrigo-widgets en zijn responsief voor elk mobiel apparaat. De widgets bieden real-time inzicht in kritieke gegevens en centraliseren alle informatie op één plaats.
Dashboards zijn de belangrijkste bouwstenen van een gebruikersinterface. Een reeks navigeerbare dashboards maakt het mogelijk om van top-level executive statistieken naar gedetailleerde informatie over afzonderlijke apparaten en diensten te gaan.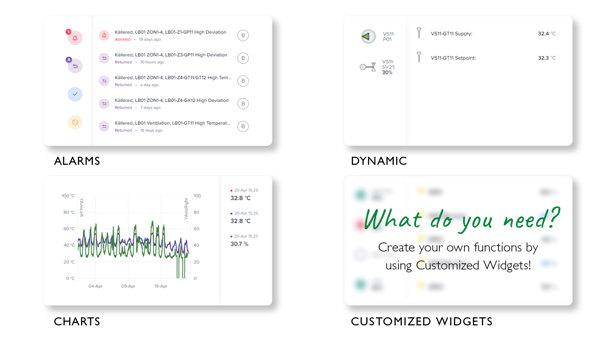 Aangepaste weergaven. Zoals u het wilt.
Als het op BMS-systemen aankomt, heeft elke gebruiker andere routines. Sommigen beginnen hun dag met het controleren van de alarmlogs, anderen richten zich op het energieverbruik. Arrigo helpt alle platformgebruikers tijd te besparen door middel van aangepaste weergaven op basis van hun meest gebruikte widgets. Op die manier start elke gebruiker Arrigo op basis van zijn versie van een dashboard - precies zoals hij het wil. Met directe, real-time toegang tot levensvatbare informatie. Altijd. Overal.