Arrigo voor eigenaren van gebouwen
Arrigo. Rechttoe rechtaan oplossingen voor de vijf grootste uitdagingen voor eigenaren van gebouwen
Gebouweigenaren en facilitair beheerders moeten zorgen voor veilige en efficiënte processen voor een productief binnenklimaat. Dit impliceert meestal het beheer van meerdere systemen, zoals gebouwbeheersystemen, diensten voor energieoptimalisering, toegangscontrole, enz. Het Arrigo-platform voor gebouwbeheer biedt eenvoudige oplossingen voor de vijf grootste uitdagingen voor eigenaren van gebouwen en facilitair beheerders.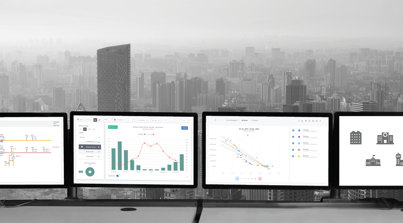 Uitdaging

Energieoptimalisatie

Kostenbeheersing en tegelijkertijd een goed binnenklimaat garanderen is waarschijnlijk een van de meest kritieke uitdagingen voor elke facilitair beheerder. Het is van vitaal belang om volledige controle te krijgen over gebouwgegevens uit meerdere bronnen, zodat geïnformeerde beslissingen kunnen worden genomen. Arrigo verzamelt alle gegevens in één platform. U krijgt toegang tot krachtige functies voor een grondige analyse van uw verzamelde energiegegevens. Analyseer uw kosten, optimaliseer de prestaties en verhoog de cashflow en de waarde van het onroerend goed.
Uitdaging

Verlenging van de levensduur van objecten

Arrigo is geoptimaliseerd om naadloos samen te werken met Regin-regelaars en veldapparatuur. Dit betekent dat toekomstige versies van Arrigo zo zijn ontworpen dat zij een maximale achterwaartse compatibiliteit met bestaande Regin-systemen garanderen. Op die manier kunt u er zeker van zijn dat uw installaties voor vele jaren toekomstbestendig zijn.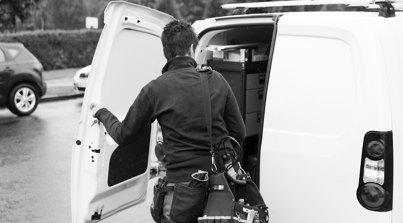 Uitdaging

Uitbestede diensten beheren

Met alles verbonden in Arrigo, kunt u gemakkelijk de kosten onder controle houden door uw dienstverleners te controleren. Importeer de gegevens die u wilt en verbind de mensen met wie u samenwerkt met Arrigo om taken, kosten en diensten bij te houden. Zorg ervoor dat zij alle taken, meldingen en alarmen rechtstreeks van Arrigo ontvangen.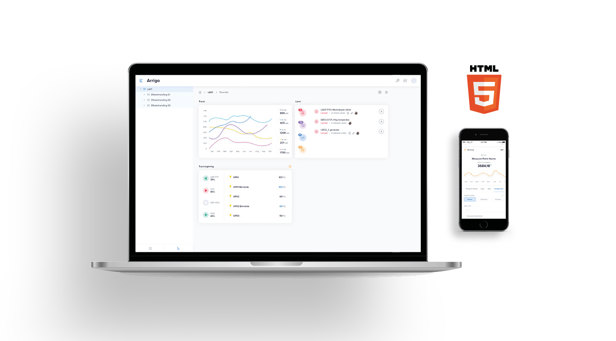 Uitdaging

Activiteiten en onderhoud plannen.

Arrigo helpt facilitair beheerders en gebouweigenaren bij het plannen en bijhouden van onderhoudsgegevens en dagelijkse werkzaamheden. Arrigo levert regelmatig rapporten over de status van alle bewaakte regelingen en veldapparatuur door:
storingsstatistieken
bedrijfstijd van specifieke onderdelen
waarschuwingen voor preventief onderhoud en service
Dit geeft de gebruikers volledige controle, zodat ze tijdig geïnformeerde beslissingen kunnen nemen en corrigerende maatregelen kunnen treffen. Dit vermindert de kosten en operationele incidenten, terwijl de productiviteit in de hele operatie verbetert.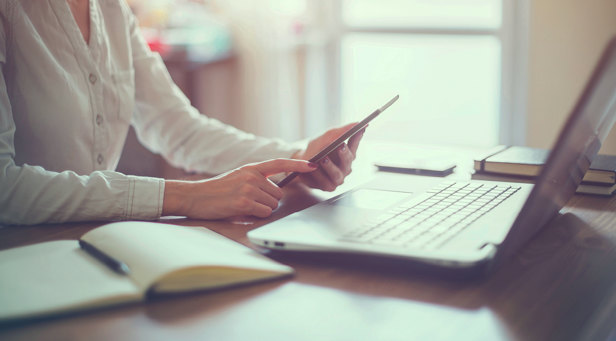 Uitdaging

Registratie en analyse van gegevens

Facility managers en eigenaren van gebouwen worden vaak overstelpt met gegevens over de dagelijkse gang van zaken, notulen van vergaderingen, voorraadinventaris, reparaties en diensten.

Arrigo helpt u deze uitdaging aan te gaan met efficiënte tools voor:
gepland onderhoud
foutrapporten
schaderapporten
inspectieverslagen van de overheid
serviceverzoeken
documentbeheer
logboeken
en nog veel meer...
Arrigo geeft organisaties meer slagkracht
Prestaties verbeteren. Energieverbruik optimaliseren. Toekomstbestendige investeringen
Boek hier uw demo
Arrigo. Eén uitgebreid platform voor alle gebouwgegevens.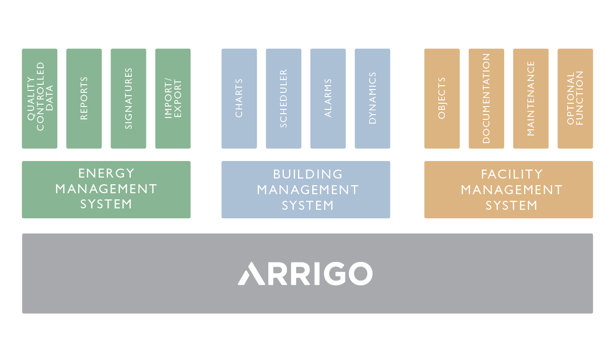 Het schaalbare platform Arrigo dekt het volledige toepassingsgebied dat nodig is voor verbonden, goed presterende gebouwen. Arrigo omvat slimme toepassingen voor gebouwbeheer, energiebeheer en facilitair beheer. Op basis van alle in Arrigo verzamelde gegevens kunnen eigenaren van gebouwen en facilitair beheerders strategieën implementeren en opvolgen om een hoog niveau van comfort te verzekeren tegen een minimale hoeveelheid energie voor verwarming, koeling, verlichting, ventilatie, en meer tijdens gebruik.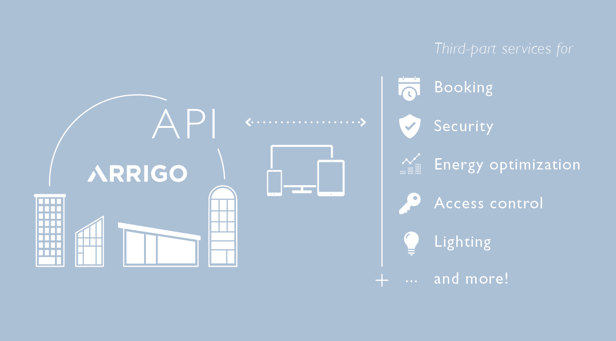 Al uw gegevens. In één platform.
Arrigo is een efficiënt instrument voor integrators die hun klanten een uitstekende gebruikerservaring en diensten met toegevoegde waarde willen bieden. De Arrigo BMS-applicatie aggregeert gegevens van al uw Regin-systemen en -subsystemen, waaronder IT-systemen, hotelboekingssystemen, clouddiensten, enz. De gegevens worden gebruikt via een intuïtieve en responsieve interface op basis van dashboards en slimme widgets. Een gedeelde gegevensbron voor gebouweigenaren, conciërges en systeemintegrators maakt effectieve samenwerking, snelle besluitvorming en onmiddellijke follow-up van uitgevoerde acties mogelijk.
Altijd alles onder controle. Altijd klaar.
Innovatie door tijdbesparend ontwerp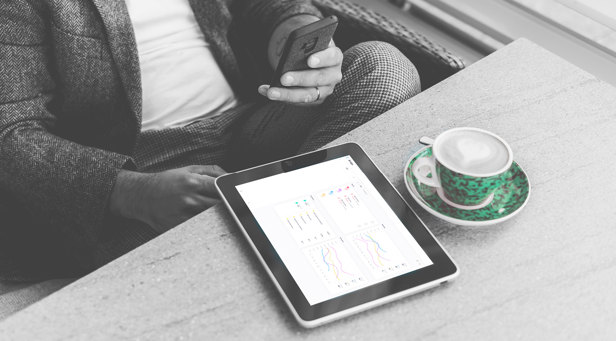 Werk vanaf elk apparaat. Altijd. Overal.
Arrigo verwelkomt alle gebruikers in een intuïtieve interface. Uw werkruimte past zich perfect aan elk soort scherm aan. Ongeacht of u een facilitair beheerder, conciërge of energieconsultant bent, Arrigo biedt u snelle toegang tot kritieke parameters voor eenvoudige configuratie, waar u ook bent, en ondersteunt uw workflow, ongeacht of u op een grote monitor, een laptop of een smart device werkt.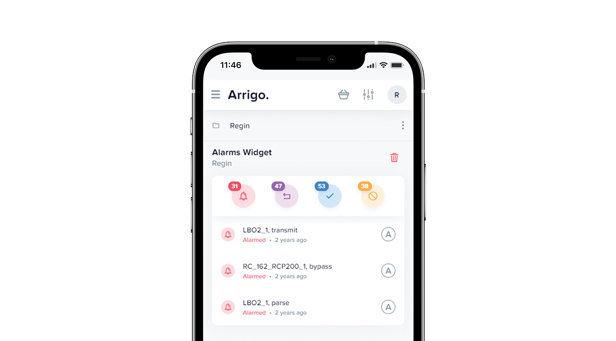 Arrigo widgets. Weinig ruimte, grote voordelen.
Arrigo widgets zijn slimme, gebruiksvriendelijke applicaties met een grafische interface die werken met real-time gegevens en waardevolle inzichten bieden in de belangrijkste parameters. Enkele van de meest gebruikte widgets zijn alarmwidgets en trendwidgets. Een Arrigo-widget kan uit verschillende componenten bestaan, zoals tekstvelden, tabbed panels, grafische animaties, of interactieve SVG animaties.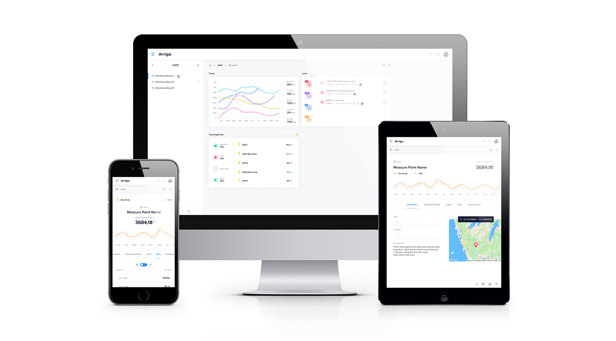 Arrigo-dashboards. Alles op één plaats. Altijd.
Arrigo-dashboards zijn opgebouwd uit Arrigo-widgets en zijn responsief voor elk mobiel apparaat. De widgets bieden real-time inzicht in kritieke gegevens en centraliseren alle informatie op één plaats.
Dashboards zijn de belangrijkste bouwstenen van een gebruikersinterface. Een reeks navigeerbare dashboards maakt het mogelijk om van top-level executive statistieken naar gedetailleerde informatie over afzonderlijke apparaten en diensten te gaan.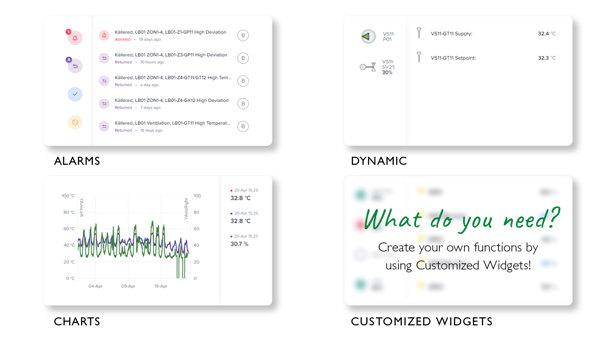 Aangepaste weergaven. Zoals u het wilt.
Als het op BMS-systemen aankomt, heeft elke gebruiker andere routines. Sommigen beginnen hun dag met het controleren van de alarmlogs, anderen richten zich op het energieverbruik. Arrigo helpt alle platformgebruikers tijd te besparen door middel van aangepaste weergaven op basis van hun meest gebruikte widgets. Op die manier start elke gebruiker Arrigo op basis van zijn versie van een dashboard - precies zoals hij het wil. Met directe, real-time toegang tot levensvatbare informatie. Altijd. Overal.
Aangepaste weergaven. Eenmalig aanmaken. Overal gebruiken.
Arrigo is ontworpen om te voldoen aan de behoeften van gebouwbeheerteams in hun dagelijks werk in en rond gebouwen. Iedereen kan onmiddellijk toegang krijgen tot informatie die relevant is voor zijn specifieke rol.
Eigenaar
Overzicht van het energieverbruik
Lagere netto bedrijfskosten in de loop der tijd
Toegewijd personeel dat een verschil wil maken
Operationeel Technicus
Overzicht voor regeling
Snelle oplossing voor alarmen en supporttickets
Snelle toegang tot gelogde gegevens
Operationeel Manager
Weten wie wat doet
Rapporten aan management
Overzicht van prioriteiten
Gebruikt door toonaangevende bedrijven over de hele wereld
Met behulp van slimme oplossingen en een holistisch perspectief heeft Systeminstallation uit Varberg, Zweden, de energiekosten voor het transportbedrijf Schenker in 10 jaar tijd met 100 miljoen Zweedse kronen verlaagd.
Anders Torsell, verkoopmanager bij Regin Controls Zweden, legt uit hoe u vandaag optimaal kunt profiteren van uw gebouwgegevens!