V: Versie van Arrigo?
A: (28/9-2021) Selecteer in Project Builder de node ArrigoBMS en open het menu Tools. Selecteer Arrigo - Bekijk de gekoppelde projectstatus. Dit zal de versie evalueren en ook controleren of er een nieuwere versie is om te installeren.
V: Hoe neem ik contact op met Arrigo Support?
A: Stuur gewoon een e-mail naar support@regin.nl en wij zullen u antwoorden. Wij zullen ook deze pagina bijwerken met ons antwoord.
V: In EXOscada heb ik een SWF-bestand als achtergrond gebruikt, in het conversieproces heeft het de referentie hernoemd met een SVG-extensie, waarom?
A: Aangezien Arrigo BMS geen SWF-bestanden ondersteunt, moet u in plaats daarvan SVG-bestanden gebruiken. Het conversieproces zal u helpen door de referenties van al uw SWF-bestanden te veranderen in SVG. Om een SVG-bestand te maken van uw eigen gemaakte SWF, opent u uw SWF-bestand in uw programma waar het gemaakt is, zoals Adobe Flash, en slaat u het opnieuw op als een SVG-bestand.
V: Zijn alle standaard EXOscada [Controller Builder] subvensters (Pop up-views) al geconverteerd in de nieuwe installatie?
A: Enkele daarvan. Aangezien zij afhankelijk zijn van de taal van het project (ingesteld wanneer gecreëerd met wizard - Nieuw Object) kunnen wij niet alle subvensters gepreconverteerd leveren. Lopende werkzaamheden.
V: Zijn alle standaard EXOscada-subvensters [Standard Objects] reeds geconverteerd in de nieuwe installatie?
A: "Geen prioriteit" Zelfde uitleg als hierboven.
V: Hoe koppel ik een geconverteerde procesafbeelding (.esav) aan een Widget?
A: Gebruik de "Convert Area to Widget" tool, Selecteer Area - Menu/Tools/More> Convert area to Widget (Ctrl + Shift + F11). U kunt ook converteren naar Link Icons (Ctrl + Shift + F12).
De tool zal alle voormalige Area/Tabs converteren naar Widgets of Link Icons, als u een mix wilt moet u ze handmatig maken of de area opnieuw converteren en copy-paste gebruiken.
V: Installeren op Windows Server 2012 R2?
A: Arrigo 2019 ondersteunt Windows Server 2016 en later.
U kunt echter proberen update PowerShell te installeren, en een speciaal installatiebestand uit te voeren. (Vraag ondersteuning voor dit installatiebestand)
1. Deze update van PowerShell: https://www.microsoft.com/en-us/download/details.aspx?id=54616 kies het bestand Win8.1AndW2K12R2-KB3191564-x64.msu en voer de update uit.
2. Start het installatieprogramma van support: ([filnamne] -unsafeMode)
V: Hoe krijg ik een donkerdere achtergrond in weergavebestanden?
A: Bewerk het bestand: Standard.cwvt.json in uw projecten folder\Shared\theme\
Stel ExtraStyle1 - Achtergrond: in op elke kleur, Arrigo Dark thema kleur is: "0x2b2f37", een iets lichtere: "0x808899"
Selecteer in de view designer de achtergrond en zet Appearence/Visual Style op ExtraStyle1
Javascript Snelgids
Scripting kan worden gebruikt in View Designer OnOpen, OnClosed, OnManeuver, OnChanged
Algemene regelaar link tekens:
Lezen van regelaar variabele eenmaal: #
Lezen regelaar variabele continu: *
Schrijven regelaar variabele: ¤ (Alt + 0164 op toetsenbord)
Algemeen
JavaScript is hoofdlettergevoelig
Scripting in OnManeuver en OnChanged
Lezen van regelaar

naar hetzelfde view object

this.value(#%Controller%.QSystem.Sec);

Lezen van regelaar

naar een ander view object

this.view.otherObject.value(#%Controller%.QSystem.Sec);

Lezen van controller

naar JavaScript variabele

let second = #%Controller%.QSystem.Sec;

Lezen van JavaScript variabele

naar hetzelfde view object

deze.waarde(tweede);

Lezen van een ander view object

naar hetzelfde view object

deze.waarde(deze.weergave.anderObject.waarde());

Schrijven naar controller

lezen van hetzelfde view object

¤%Controller%.QSystem.Sec = this.value();

Schrijven naar regelaar

lezen van een ander view object

¤%Controller%.QSystem.Sec = this.view.otherObject.value();

Schrijven naar controller

van andere regelaar variabele

¤%Controller%.QSystem.Sec = #otherController.QSystem.Sec;
Twisters:
U kunt niet toewijzen aan objecten in view.OnOpen view omdat ze op dat moment nog niet zijn aangemaakt.
wordt vervolgd...
V&A voor bekende problemen en oplossingen
Bijgewerkt: 28/9 - 2021 12:22EST (Laatste onderaan)

V: Na een clean install blijft Arrigo hangen op het laad icoon na het inloggen. (Complexe server met mogelijke beperkingen?)
A: Voer /arrigo/api/ in om te controleren of je op de API login pagina komt. Zo niet: Controleer Windows Event Viewer / Toepassingen / - Fouten. Zo ja: Neem contact op met support en zij zullen contact opnemen met ontwikkelaars om er naar te kijken.
V: Converteer de projecten Root Area
A: Nog niet klaar, maak een tijdelijk gebied als je root area tot we de conversiefunctie hebben geupdated.
V: Teksten die na omzetting te groot zijn en niet in de oorspronkelijke tekstcontainer passen
A: Ja, we hebben de lettergrootte van de Style Normal veranderd naar iets groter. Verander de lettergrootte naar "Klein" en het wordt kleiner, maar kan soms nog steeds te breed zijn. Wij overwegen om het lettertype tijdens de conversie automatisch te veranderen in klein, maar dat is nog niet gebeurd.
A: (17/11-2020): Het bestand \Shared\theme\Standard.cwvt.json zal helaas GEEN invloed hebben op de lettergrootte op dit moment, de lettertypes worden gebruikt van de hoofd Arrigo stylesheet.
V: Hoe maak je een Widget?
A: Zorg ervoor dat je lijsten hernoemt naar SymbolElements en ListElements, Zie dit deel van de Webinar over het maken van Widgets
Aanvullende regels:
Als u geen SymbolElements wilt, laat het dan niet leeg, maar verwijder de hele SymbolElements-lijst
Als u alleen SymbolElements gebruikt, kunt u maximaal 6 symbolen hebben
Als u SymbolElements en ListElements gebruikt, kunt u maximaal 4 symbolen en 5 ListElements hebben
SymbolElements heeft een Symbool nodig voor elke Numerieke waarde of tekstselectie (bug te verhelpen)
Als u geen ListElements wilt, kunt u het leeg laten.
U kunt maximaal 5 ListElements hebben.
Werkvoorbeeld: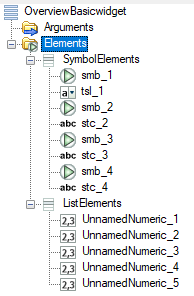 25/11 - 2020
V: SVG met Javascript draait in Controller Web maar niet in Arrigo.
A: De viewBox stopt de SVG om het Javascript in Arrigo uit te voeren.
Verwijder viewBox="0,0,100,100" van de SVG koptekst. In het SVG bestand. Controleer of het werkt.
Probeer de viewBox op dezelfde grootte in te stellen als het ViewDesigner element en zet Uiterlijk op "Pas de breedte aan"
V: Kan ik de grootte van de pictogrammen in Widgets veranderen?
A: Ze hebben een beperking op de widget.
V: Mijn beeld wordt helemaal wit zonder fouten na het omzetten van een area view.
A: Waarschijnlijk hebt u Color change object in de view, dit heeft nu een andere functie (style change).
Workaround: Verwijder alle objecten die van kleur veranderen en vervang ze door symbolen die de functie aangeven. Fix is uitgevoerd met convert to symbols in plaats van style change om de conversie wat makkelijker te maken.
V: Kunt u ChangeAdvise gebruiken om te koppelen aan verschillende variabelen in SCADA
A: Nee, als de view geladen is, staat de Advises to API vast.
V: Welke JavaScript-pakketten zullen beschikbaar zijn in Arrigo?
A: Elk online pakket.