Cost- and time-effective solutions for residential, public and commercial heating systemstive solutions for residential, public and commercial heating systems
Cost- and time-effective solutions for residential, public and commercial heating systems
Heating is important for creating healthy and comfortable environments for people in different spaces – from homes to work places and spaces for recreation.
Heating also supports critical industrial processes and prevents condensation. A smart, easy-to install and future proof control system considerably increases the value of any real-estate investment.
At Regin, we offer a tailor-made heating portfolio with everything needed to design your specific heating system.
In our offer we have combined the most efficient tools from Building Energy Management System, freely programmable and configurable heating controllers and software to smart components – all of them focusing on enabling efficient business for our customers through cost-and time efficient installation, commissioning and maintenance.
With one of the most complete offers on the market, we can provide the right solution, whether you are looking for heating control in residential buildings or if you are in need of a full-scale freely programmable automation system that servers larger spaces that can be divided into different offices or departments with specific climate requirements.
Exigo has been developed to be your perfect companion for any challenge where the answer is efficient, intelligent heating solutions and energy savings. The configurable heating controllers contain loads of smart time-saving features that make it possible to get started in no time. Together with an optimized range of adapted components, such as expansion units and wireless sensors it is fast, easy and very cost-efficient to design, install, commission and expand – all according to your specific requirements.
Application tool gives you access to our preset application templates that help you make all configurations quick and easy. It is loaded with great functions such as effect-limitation, monitoring energy consumption and possibility to create functions with wireless sensors.
There are endless possibilities with the configurable controller Exigo. Here you find some useful predefined examples available for easy configuration. They can be downloaded from the web as atf-files. The atf-files can be used in Application tool for further modification and adaptation, or they may be directly downloaded into the controller.
We offer flexible and time-saving BMS solutions based on cloud technology. Our IoT-based cloud service portal CLOUDigo developed in HTML5, may be connected to for example heating- or ventilation systems. It gives the user full access to values and charts in the computer, tablet or cell phone regardless of physical location and at a very low cost.
Get full access to all controllers to monitor logs and optimize values from your computer or device. CLOUDigo offers pedagogical flow charts with real-time data. The interfaces are permission-controlled for different users and the cloud-service has 13 months' logging.
Intuitive building management
Arrigo has many user-friendly features for real time data collection, visualization, monitoring and control of processes and events. By working with the extremely flexible platform, we provide support during the whole lifecycle of the building. We ensure that everyone, the building owner, caretaker and integrator, gets a customized user experience, minimizing the need for traditional administration.
The solution support a wide range of interfaces for communication protocols such as Modbus and BACnet and may be adapted to your specific application.
Regin's Building Energy Management System offers smart workflows and highly efficient maintenance – it also makes way for long-term energy savings and creates motivated teams in every part of the organization. Regin BMS Solutions provides the window to your building data and is an intuitive tool for efficient building maintenance and long-term energy efficiency.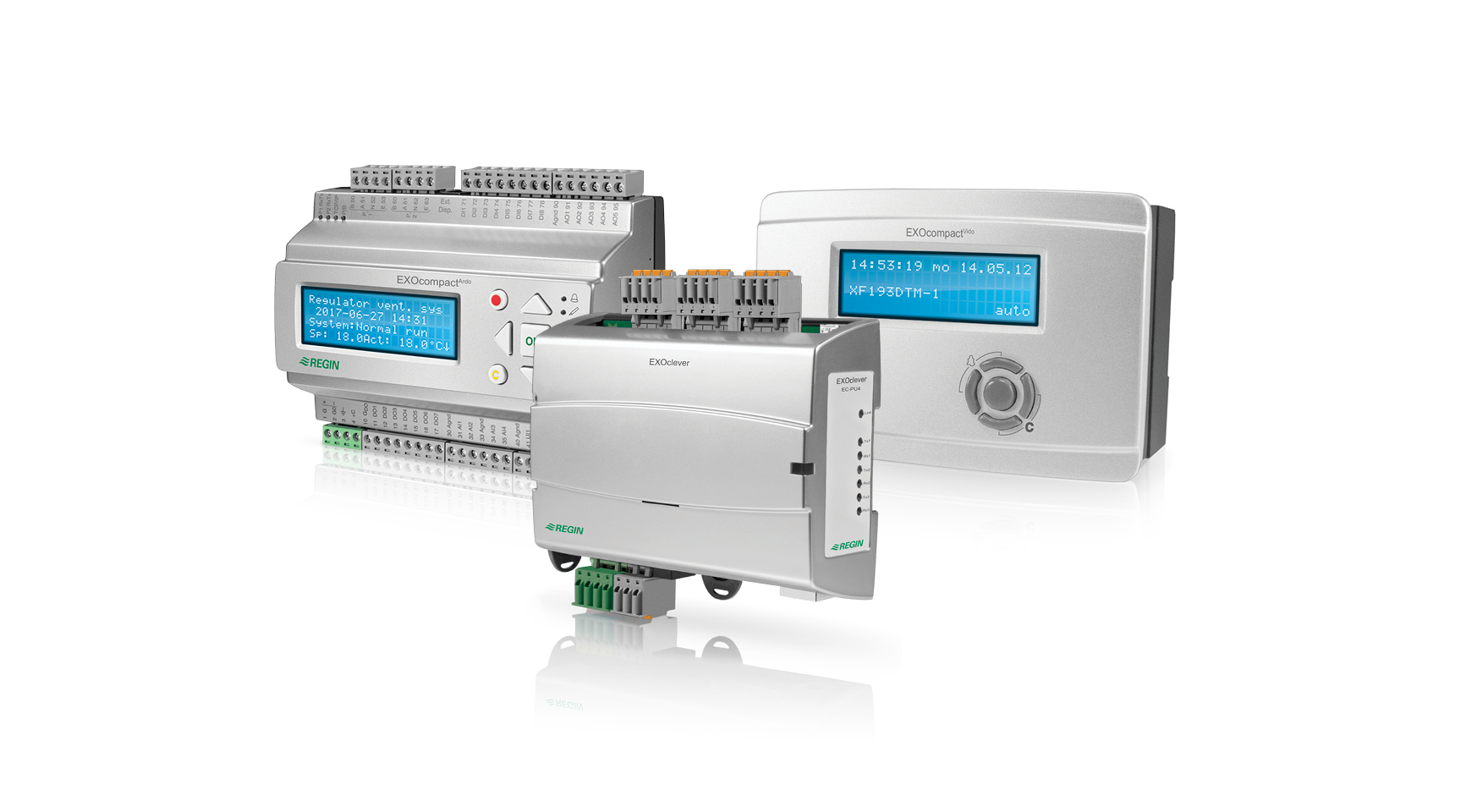 Our freely programmable controllers from our EXO-series can act as your central control system for your heating, as well as the building management of additional functions, such as ventilation, lighting control, etc. The controllers are built in a modular design and can handle all kinds of installations with a large number of inputs and outputs and high demands on communication and adaptability. Of course, we made it easy to increase the capacity and add more functions through IO-modules as soon as the need occurs.