Upgrade EXOscada to Arrigo BMS
From the world of EXOscada to Arrigo BMS
The next step towards the future of building management.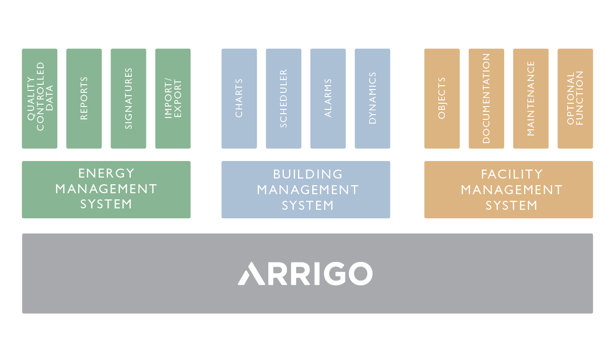 From the world of EXO to Arrigo BMS
Arrigo BMS is a new technological platform that easily integrates with Regin's existing EXO system with all Regin controllers and field products connected to it. The unique feature of Arrigo is its strong capability of connecting tightly to third-party systems, enabling the full digitalization of buildings.
For existing users of EXO4 and EXOscada entering the world of Arrigo is the next step towards the future of building management.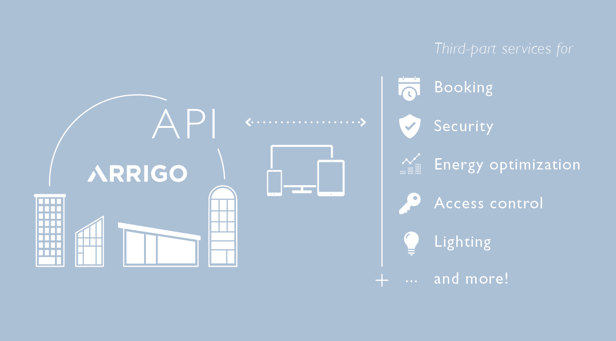 All your data. In one platform.
Arrigo is an efficient tool for integrators who want to provide their customers with outstanding user experience and add-value services. The Arrigo BMS application aggregates data from all your Regin systems and subsystems, including IT systems, hotel booking systems, cloud services, etc. Data is consumed through an intuitive and responsive interface based on dashboards and smart widgets. A shared source of data for building owners, caretakers, and system integrators enables effective collaboration, swift decision making, and instant follow-up on implemented actions.
How to get started with Arrigo BMS
EXO4
EXO4 is the earliest version of SCADA/HMI software for the operation of the Regin EXO system. This SCADA version was discontinued and succeeded by the next generation, EXOscada. Nevertheless, there are still few systems left that use EXO4 today.
How to upgrade to Arrigo:
For users of EXO4, it's still possible to upgrade to Arrigo. This is done through a series of upgrades:
Upgrade EXO4 in steps to the latest version of EXOscada
Upgrade EXOscada to Arrigo BMS
EXOscada
EXOscada by Regin is the successor of EXO4 and the predecessor of Arrigo BMS. With a shift to HTML5 and the introduction of Arrigo BMS, Regin announced the end of life for EXOscada, EXOscada Chromium, and EXOscada viewer. Support and distribution of any version of EXOscada will end by 31st of December 2023.
How to upgrade to Arrigo:
For users of EXOscada it is possible to go through a smooth transition.
upgrade to the latest version of EXOscada
install Arrigo BMS
import your existing projects to Arrigo BMS and reuse configurations and graphics
System requirements for Arrigo BMS
Arrigo BMS requires a 64-bit Windows version on the following OS:
Windows Server 2019
Windows Server 2022
For developer installations:
Arrigo BMS Installer requires PowerShell 5 or newer to run.
Upgrade agreement included:
All new Arrigo licenses automatically include a free-of-charge one-year upgrade agreement. Make sure to sign up for a new agreement within this year to ensure that you are always working on the latest version.
Regin Academy is happy to introduce system integrators to Arrigo. Regardless if you are first-time user or if you are an existing Regin integrator, Regin Academy will support you to get started. Get in touch with your local sales contact to take part in the educational program.
Our courses include:
Input on the general strategy for planning, programming, and testing
Reviews of Regin products and BMS systems, connections, and definitions
Support in the project planning process mostly related to communication
Reviews of connection to controllers through networks
Programming of freely programmable controllers
Design of SCADA graphics in controllers and servers
Design of customized graphic objects
Programming of customized objects