Meting van de luchtdruk
Minder installatie, minder kabels. Presigo.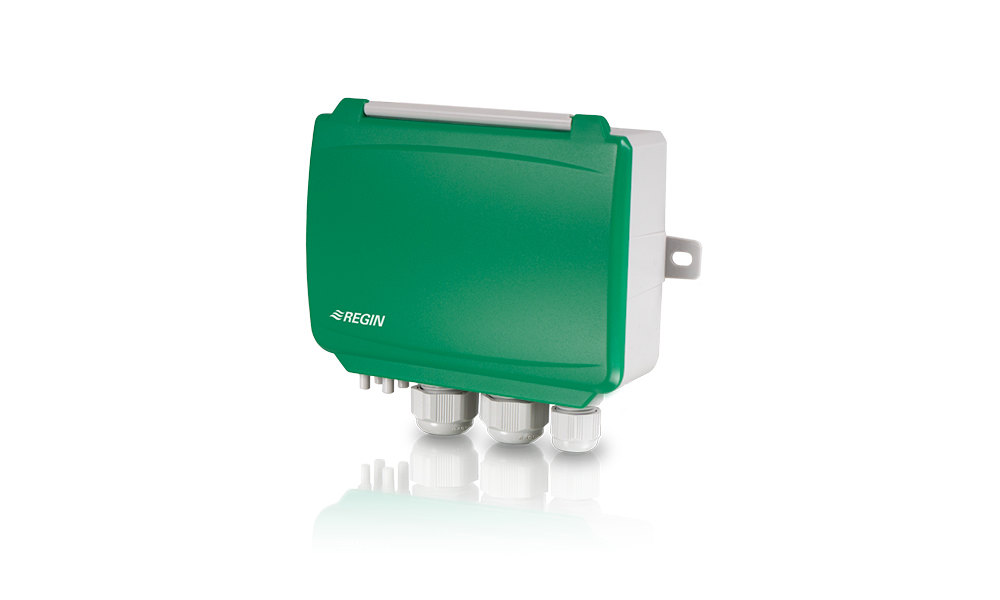 Nauwkeurige meting van de luchtstroom in ventilatiesystemen
Hoge precisie en stabiliteit op lange termijn zijn van cruciaal belang voor een goed werkend, energie-efficiënt ventilatiesysteem. Maak kennis met Presigo, de drukverschil transmitter van Regin. Presigo meet de luchtdruk in het ventilatiesysteem en communiceert rechtstreeks met elke optionele ventilatieregelaar. Presigo is verkrijgbaar in verschillende modellen. De meest geavanceerde modellen helpen u te besparen op installatietijd en bekabeling.
Druknauwkeurigheid:
± 1% volle schaal nauwkeurigheid
Temperatuurnauwkeurigheid:
± 0,5 K bij 0… 50 °C
Waarom Presigo?
Bespaar tijd bij elke installatie door een snelle en eenvoudige montage. Presigo is ontwikkeld vanuit het perspectief van de installateur, wat heeft geleid tot een aantal unieke functies:
Installeer één apparaat in plaats van twee! Omdat elke unit twee drukingangen heeft, vermijdt u tijdrovende installatie en kunt u zich concentreren op wat echt belangrijk is - nauwkeurige en precieze meting.
Maak u geen zorgen over de plaatsing. U kunt kiezen om Presigo verticaal of horizontaal te monteren, wat u een grote flexibiliteit geeft wanneer u bijvoorbeeld vocht in de behuizing wilt voorkomen.
Bespaar tijd en moeite bij de installatie. Met Presigo hebben we het evenwicht gevonden tussen een compact ontwerp en eenvoudige installatie: u kunt erop vertrouwen dat er voldoende ruimte is in de behuizing en dat u gemakkelijk bij de bedrading kunt komen.
Minimaliseer het kabelgebruik en sluit veldproducten aan met Presigo als uitbreidingseenheid
Als u Presigo in PDTX-versie installeert, kunt u Presigo gebruiken om nog meer bedrading naar de regelaar te minimaliseren. Door eerst het apparaat van stroom te voorzien en vervolgens de communicatiekabel tussen de drukverschil transmitter en de regelaar aan te sluiten, kunt u gemakkelijk diverse sensoren en transmitters voor bijv. druk of temperatuur rechtstreeks op Presigo aansluiten. Op deze manier minimaliseert u de bedrading en kunt u de centrale regelaar gemakkelijk ontlasten met maximaal vier ingangen en twee uitgangen.
Bedradingsvoorbeelden voor Presigo PDTX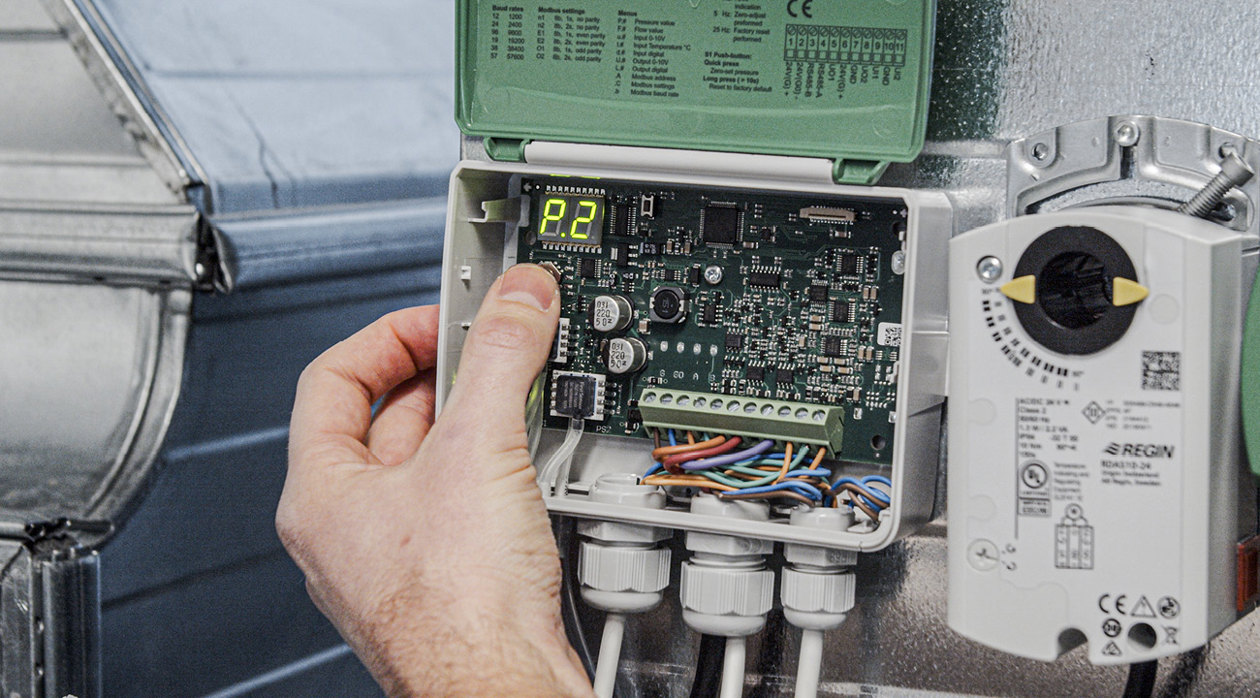 Eenvoudige configuratie van Modbus-communicatie
Andere Presigo-modellen zijn ook verkrijgbaar met Modbus-communicatie. De communicatie wordt geconfigureerd met een paar snelle joystickbewegingen, rechtstreeks in Presigo. U kunt tot 7 werkbereiken voor druk en debiet configureren. Natuurlijk kunt u ook de Application tool van Regin gebruiken om de Corrigo-ventilatieregelaar te configureren, of de communicatie via een Modbus-tool configureren als u verbinding wilt maken met een ander type regelaar.
Bewaking is net gemakkelijker geworden! Maak verbinding met Corrigo en krijg een volledig systeemoverzicht.
Als u de drukverschil transmitter Presigo gebruikt in combinatie met de configureerbare Corrigo-ventilatieregelaar van Regin, kunt u meteen aan de slag met de Application tool, de configuratietool waarmee u met een paar klikken de drukparameters in uw ventilatiesysteem instelt. De Corrigo is gekoppeld aan een webinterface waarmee u ook de operationele status kunt controleren, alarmen kunt instellen en uw systeem kunt beheren, ongeacht waar u bent.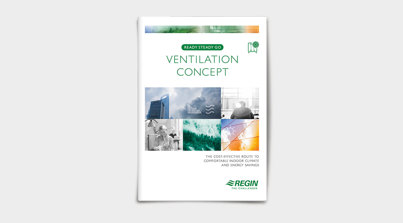 Hier leest u meer over hoe u tijd, geld en energie kunt besparen door gebruik te maken van de flexibele Ready-Steady-Go oplossing van Regin voor ventilatie. Een configureerbare oplossing die heel dicht in de buurt komt van een vrij programmeerbare...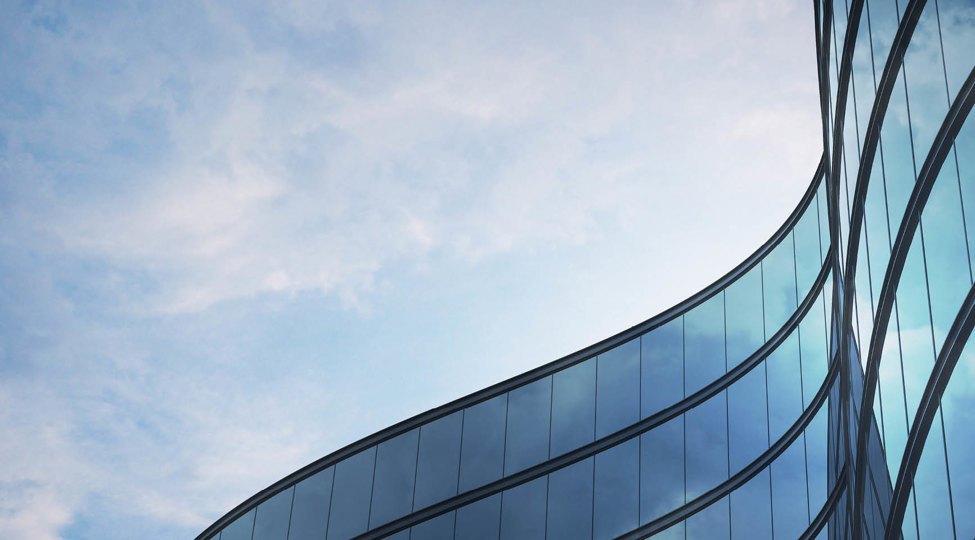 Snelle links naar de Presigo-modellen
Single or dual port differential pressure transmitters with one or two analogue outputs. The transmitter can be configured for 0-10 V or 4-20 mA output signal. Selectable working range.
Differential pressure transmitters with two universal inputs and communication via EXOline or Modbus.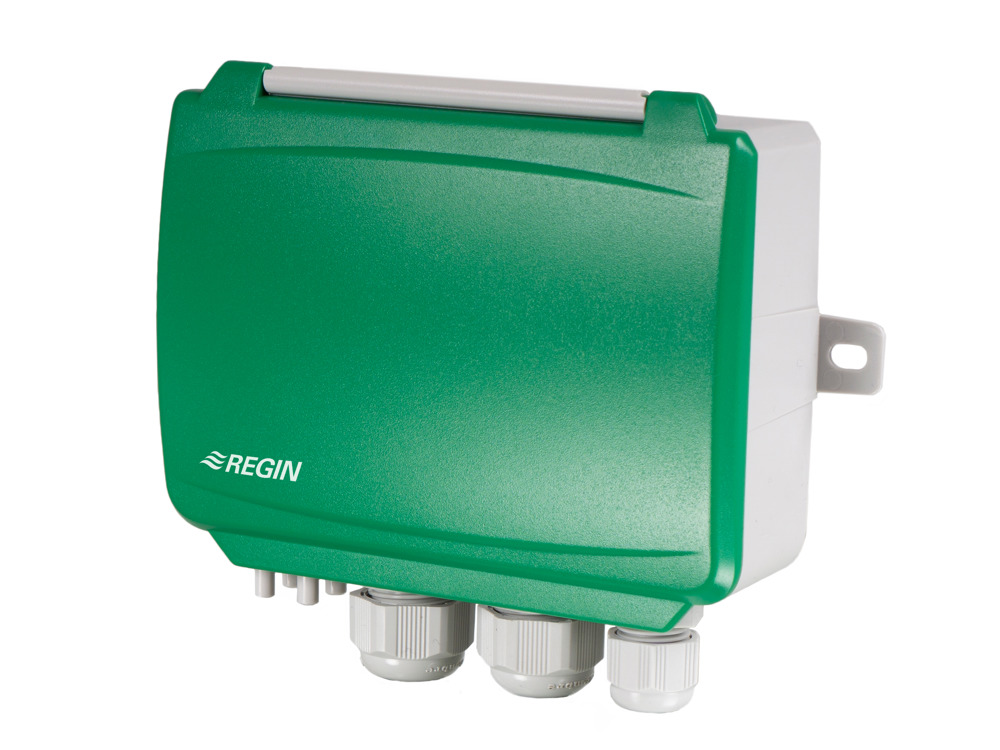 Differential pressure transmitters, 24 V, with two universal inputs, two universal outputs and communication via Modbus.