Heating system with boiler control, one domestic hot water and one unmixed heating circuit
Exigo heating systems: Boiler control, one domestic hot water and one unmixed heating circuit
The Exigo heating controllers offer a ready-made application for the control of boiler, one domestic hot water and one unmixed heating circuit, typically used for floor heating, radiator systems, and more. The application can be downloaded from this website, customized via the application tool and loaded into the controller.
Downloads for Application 105
Description of functions
Outdoor temperature-compensated control for one radiator, convectors, or low temperature heating circuit
Time switch for daily, weekly, and holiday programs

Optimization of switch-on times

Caretaker function, frost protection function

Outdoor temperature-compensated heating circuit, with optional room-sensor for adaption

Min./max. limiting of supply and return temperature

Flash adaption

Support operation

Capacity limitation with optional energy meter

Cooling function - switchover based on outside temperature or digital input
Domestic hot water circuit with storage tank and load pump
Time switch for daily, weekly, and holiday programs
Anti-legionella system
Settable priority
Optional control of circulation pump
Capacity limitation with optional energy meter
Boiler control of boilers with 2-step
Secondary supply temperature control with limitation of the primary return
Supply setpoint depending on the demand of HS, HW
Optional control of a pump
Start- stop- delay
Your complete solution for heating control.
Controllers
Exigo heating controllers are controllers for heating and boiler control that make every step from installation to operation and maintenance easier than ever. Simply connect the controller, enter any settings as desired, and startup. It can be used either stand-alone or integrated into a network. It has built-in support for many different languages and is designed for mounting on a DIN rail or in a cabinet door.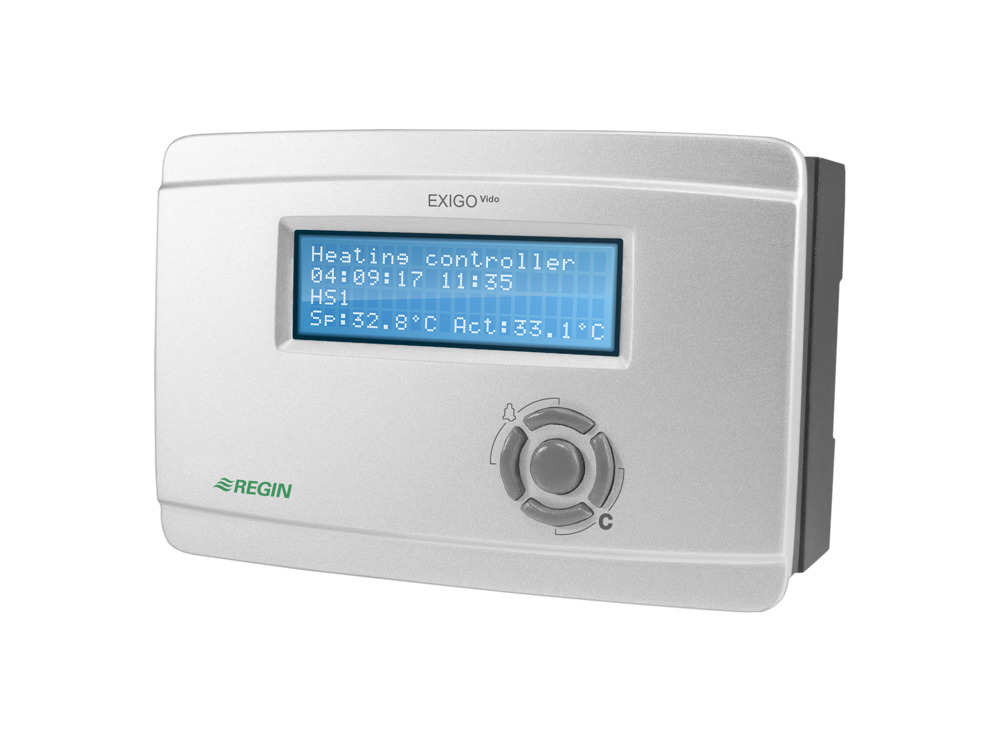 | | |
| --- | --- |
| HCV191DW-2 | 19 IOs, 1 TCP/IP port, built-in display |
| HCV192DW-2 | 19 IOs, 1 RS485 port, 1 TCP/IP port, built-in display |
| HCV203DWM-2 | 20 IOs, 1 RS485 port, 1 TCP/IP port, 1 M-bus port, built in display |
Outdoor temperature sensor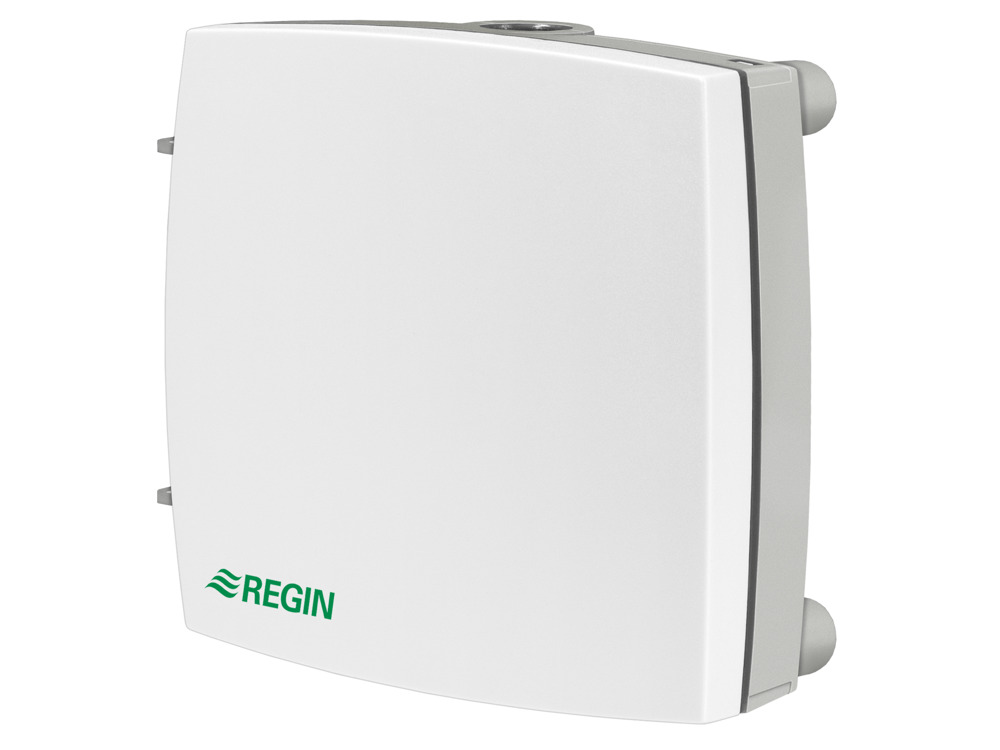 Wireless outdoor temperature sensor equipped with a terminal for connecting an external PT1000 sensor
Storage tank temperature sensor domestic hot water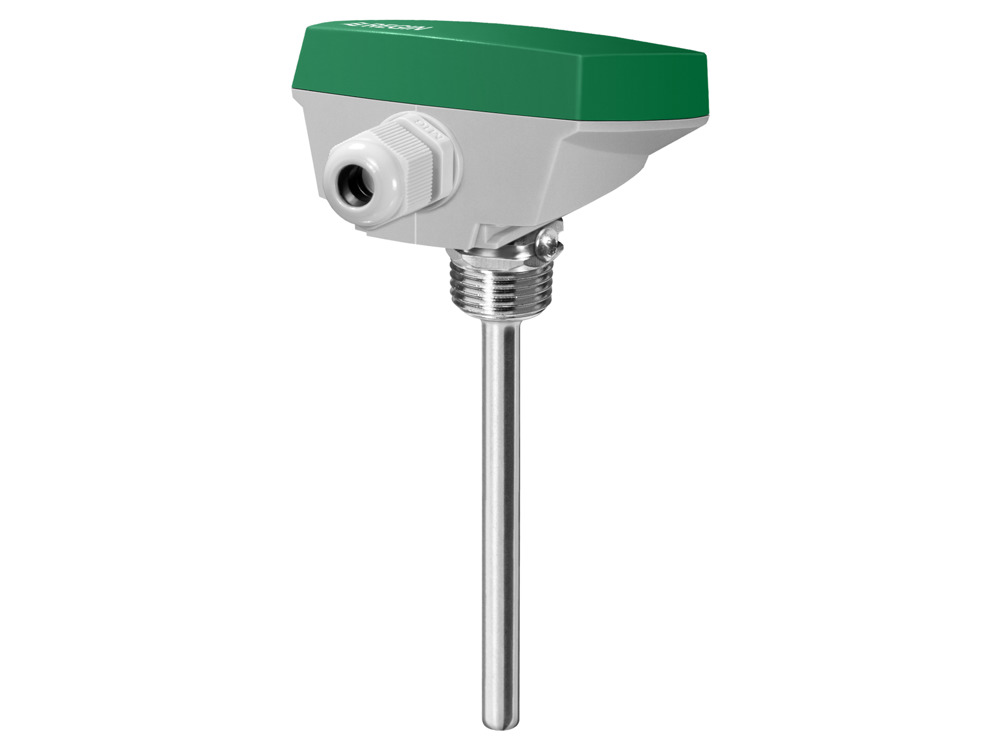 Immersion sensor for temperature measurement in heating- or cooling applications. Available in different lengths. Insertion length 310 mm is available upon request, please contact Regin for more information.
Room temperature sensor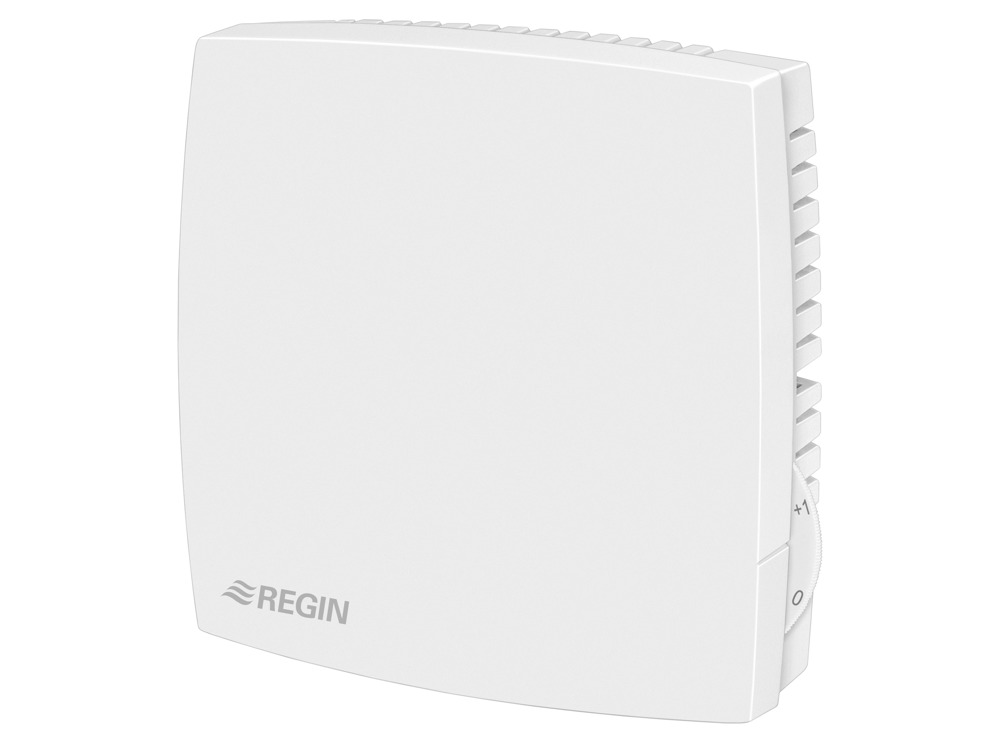 For room temperature measurement. Can also be used solely for setpoint adjustment.
Valves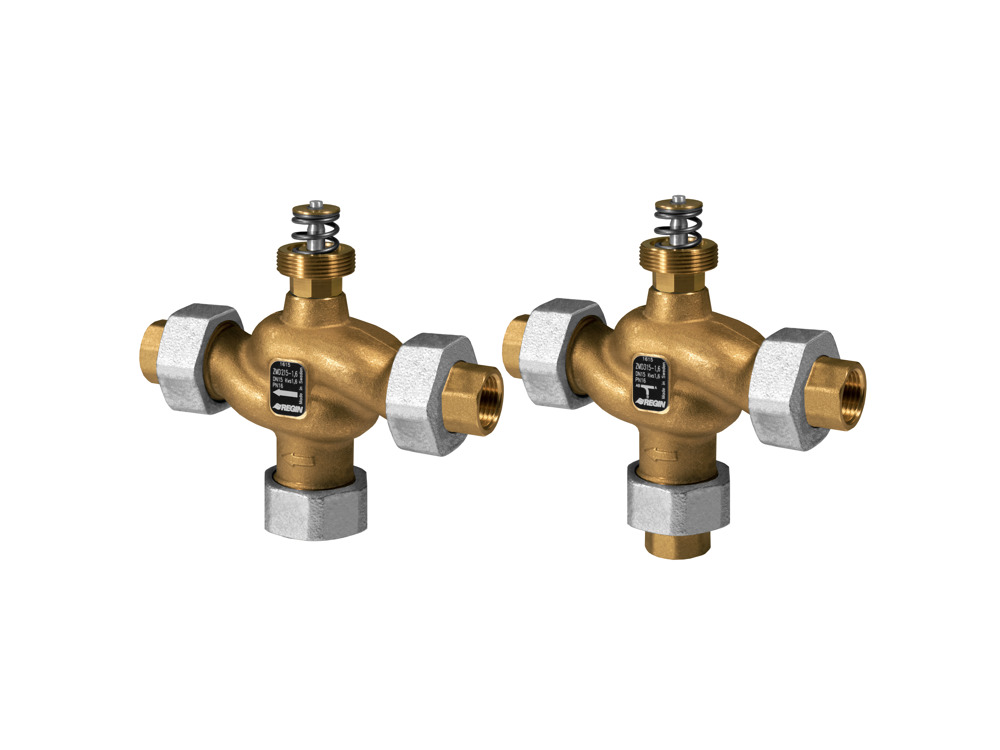 Externally threaded control valves intended for use in heating and cooling systems together with the RVAZ4… series of electromechanical actuators. A hand wheel for manual operation is delivered with the valve.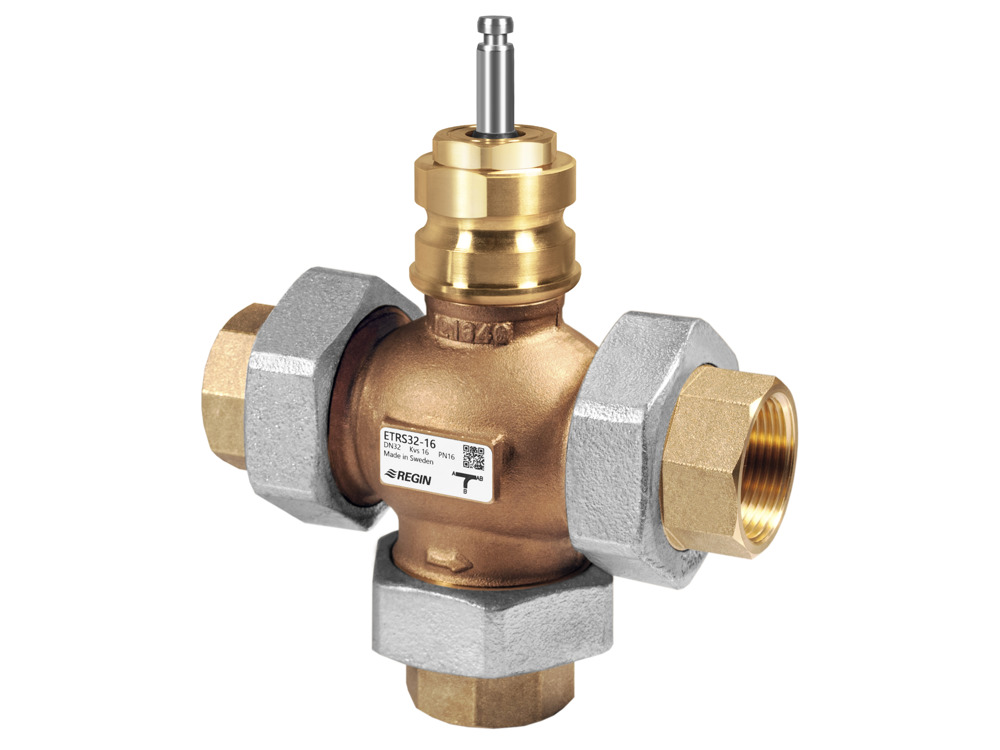 Valves intended for control of cold, hot and glycol-mixed water in heating, ventilation and when DZR material is a requirement (DZR = Dezincification Resistant). The valves are intended to be used together with Regin's RVAN5 actuators. RVAN10 actuators can also be used if larger actuating force is required. The valve is supplied with a cover lid for converting the 3-way valve into a 2-way valve.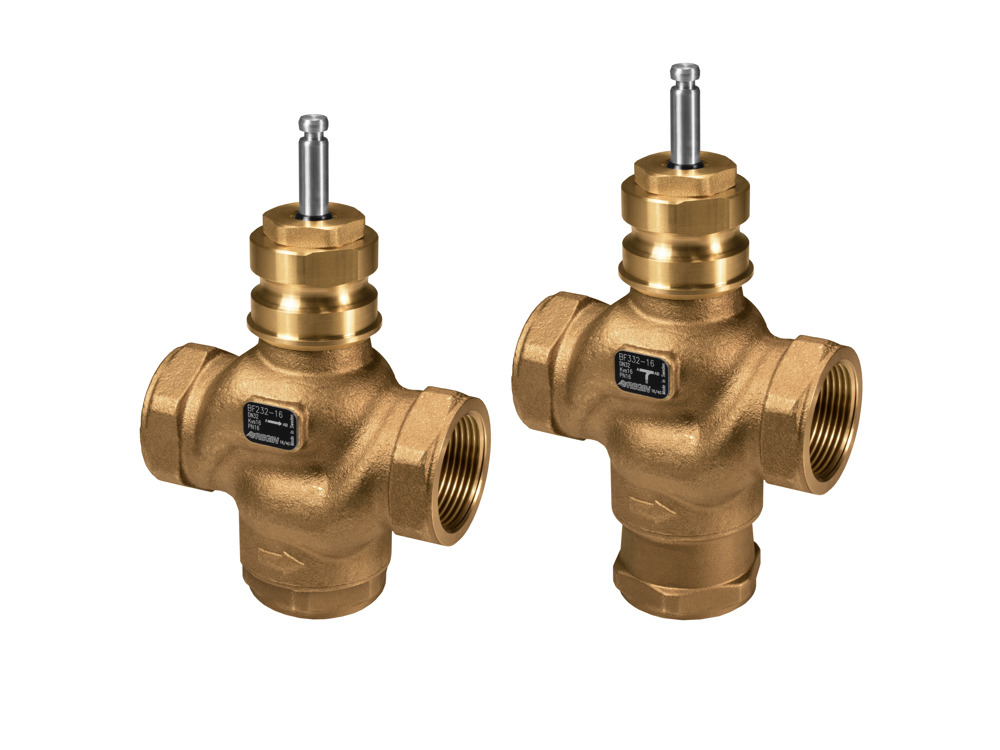 Valves designed for control of hot, cold or glycol-mixed water in heating and ventilation systems. The valves are intended for use together with Regin's RVAN5…/RVAN10… actuators.
Actuators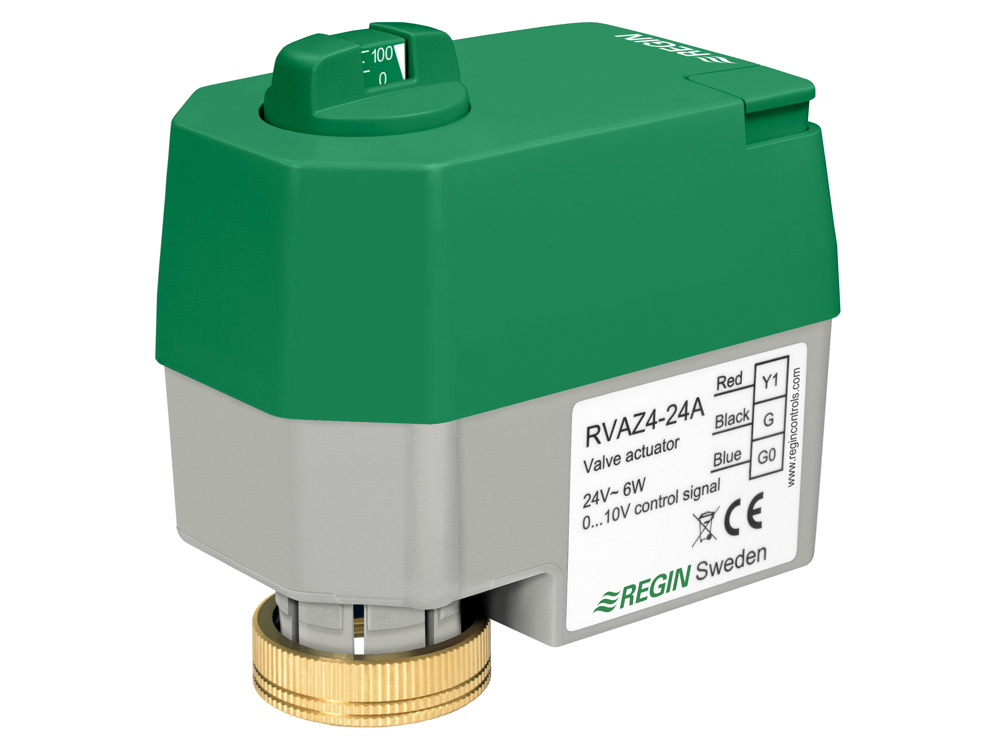 The RVAZ4 series of valve actuators are easy to mount and have a clear position indication which shows the position of the actuator. The actuator has manual manoeuvring. The RVAZ4 models are intended for use together with Regin's valve ranges ZTV/ZTR and ZMD. The RVAZ4L1 models can be used for different brands of valves in combination with the OVA-L1 adapter.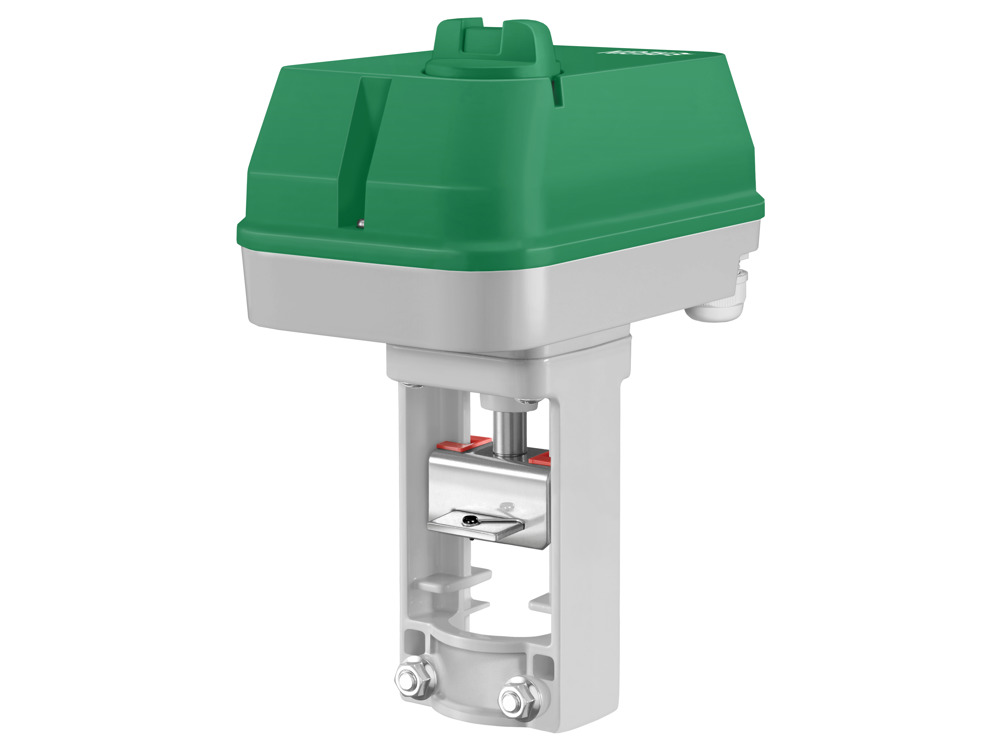 Valve actuator for control of Regin's range of valves. Available in models with actuator force of 500, 1000, 1800 or 2500 N. The actuators can be operated manually with the manual override mechanism on the lid. Using an adapter kit, the actuator can also be adapted for use with other valves on the market.
M-Bus meters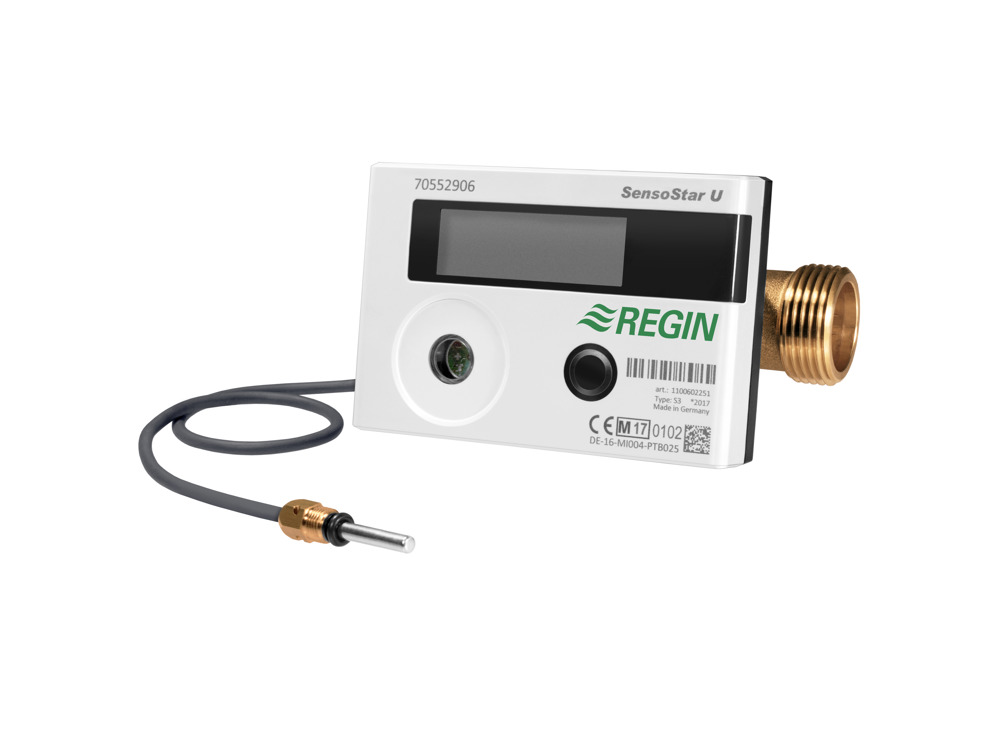 Externally threaded, compact energy meters with built-in ultrasonic flow meter, intended for heating or cooling. We offer many different options, see the product sheet for more information.
Business-driven development – our solutions
We understand your business reality and work in close collaboration with our partner network with one common goal – the goal of transforming your needs into technical solutions.